TOUR PACKAGE
Jeep Safari In Desert
Jeep safari in Jodhpur and Jaisalmer Lonely roads scarce life no vegetation where are we Amid deserts where the horizon meets you and only you remain. A camp in the lap of nature so barren yet so subtle. You have all the time in the world to spend on yourself. Precious time which you yearned for A proper camel Safari in the Desert can only experience all these. The thought of finding oneself between the sea of sand is itself mesmerizing.
A large number of travel agents and tour operators in Rajasthan organize camel safaris. Jeep safari is also worth taking in Jaisalmer and Jodhpur if you are a fun loving and adventurous creature.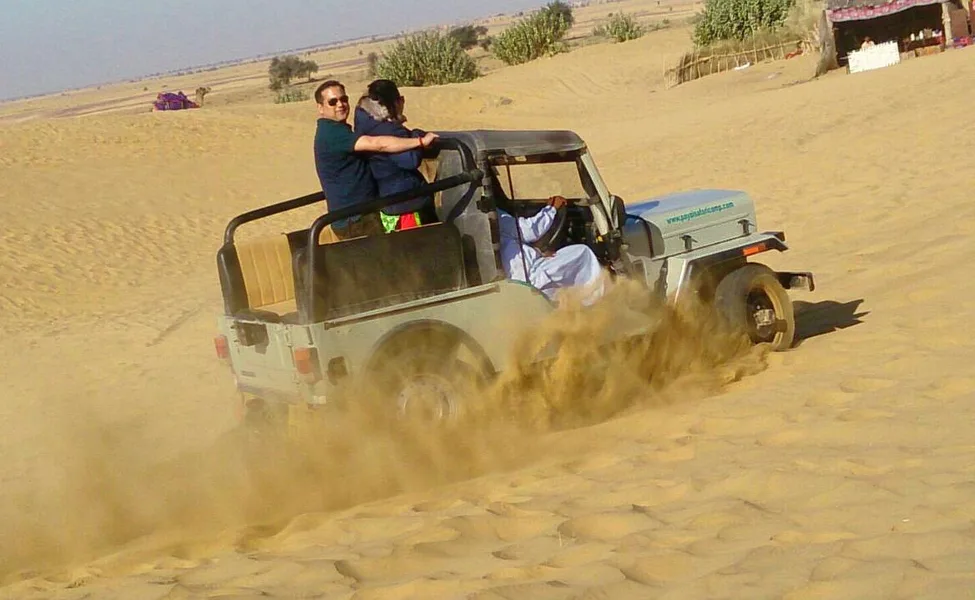 The city of Jaisalmer and Jodhpur additionally goes about as the monitor to western Rajasthan frontier. Perched near the border outskirt and in nearness to the Thar Desert, this city beckons travelers from far and wide.
The city's most unmistakable milestone is the Jaisalmer Fort, likewise called Sonar Qila (Golden Fort). Dissimilar to most different strongholds in India, Jaisalmer Fort isn't only a vacation spot. It houses shops, inns and old havelis (homes) where ages keep on living.
Make your vacation a special one with this exciting overnight jeep and camel safari with camping.
-Explore the amazing beauty of the Thar desert while once you reach the camel point by jeep.